B2B Online 2018: Get the Manufacturing Marketing Resource Pack
Brush Up On Your Digital Skills With Resources For Manufacturers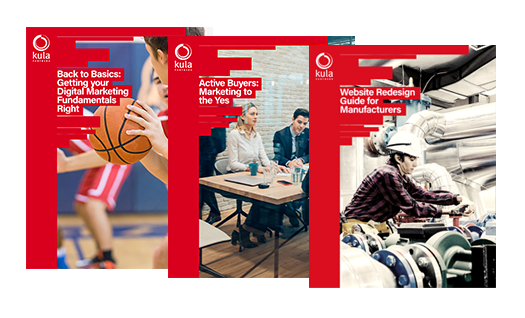 Attending B2B Online 2018 in Chicago? Get the Manufacturer Marketing Resource Pack to brush up on new digital strategies, how to identify and target buyers with decision-making power, and other emerging digital marketing trends and terminology that will be discussed at the conference.
The Manufacturer Marketing Resource Pack contains the authoritative Website Redesign Guide for Manufacturers, our comprehensive How to Manufacture Better Content webinar, and a series of Strategic Insights for Manufacturing Marketers—all of which contain advice customized for manufacturers, such as:
The six foundational tasks required for a successful website redesign, and how to make sure your new website is built specifically for your Buyer Personas.

How to develop interactive and non-traditional content that connects with B2B buyers.

How to find your buyers—connecting with the people in your target organizations who are most likely to influence buying decisions.
Fill out the form on this page to immediately gain access to valuable insights that will help you get the most out of your time at B2B Online 2018 and create better digital strategies.